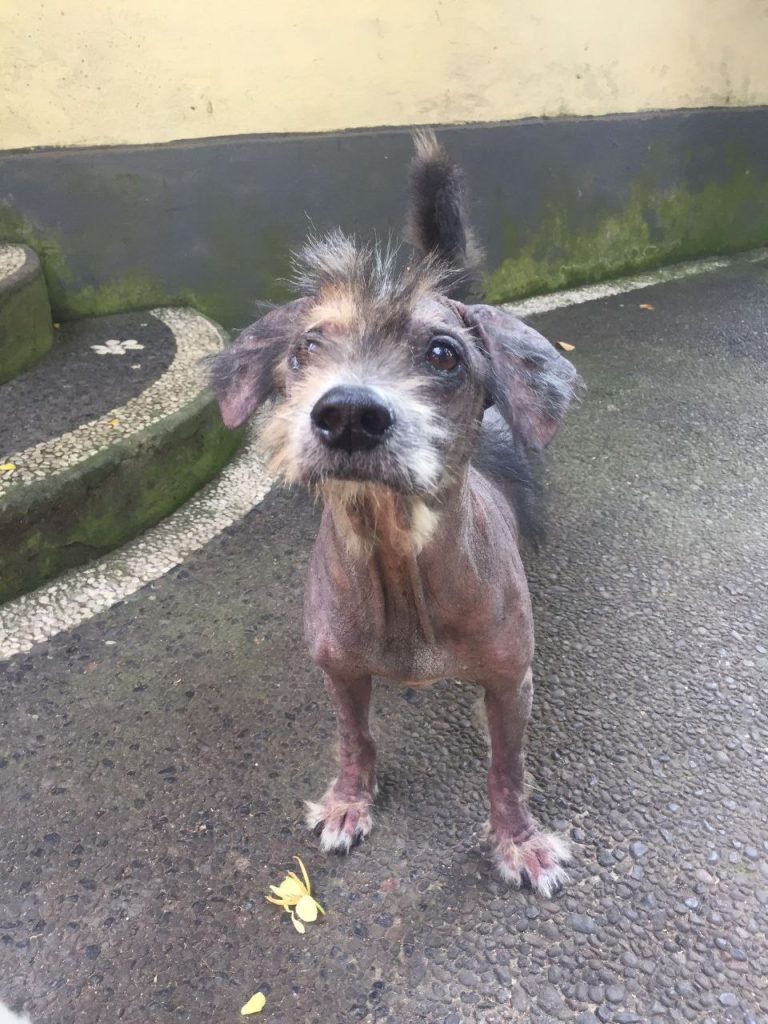 Age        : 5 years
---
Sex         : Male
---
Size        : Medium
---
Colour   : Grey
---
Every animal adopted from BARC is desexed*, vaccinated, flea and worm treated, behaviourally assessed and health checked.
*Unless fostered or adopted before of age owners are able to return with their animals during sterilization days.
https://www.instagram.com/stories/highlights/18285755407030342/
This poor little boy was discovered by dog lover @rebecca.noomi, standing on a busy street in the middle of Legian. Helpless and sad he was frantically looking for something to eat in a pile of trash.
By the appearance of the suffering skinny body, it was assumed that he had been dumped. When we received the call for help Murja went to the location in the early morning one day before the silent day, but the little boy was nowhere to be seen. By showing the photos of the dog to the residents in the street, we then found his home, and his owners.
This little boy is named Bleko, 3 years old and a little Shih Tzu mix. Not at all what a dog should look like. His body is so emaciated that every rib and bone is visible through his parasite-infested skin.
We received so many great name suggestions for our latest rescue. In the end it was Snoppy, recommended by Maria, that stood out the most.
After one week at the vet clinic, Snoopy was allowed to come into our direct care to continue to heal at home. His appearance has already changed, he has gained weight.
We are treating him holistically with neem baths and healing oil to help cure his severe case of mange and building up his strength with nutritious food and vitamin supplements at the same time.
While Snoopy looks already much better from the outside, he is still hurting on the inside. He is showing signs of trauma caused by the many months of suffer. He freezes when approached, not knowing just yet whether he can trust or not. At this moment he only allows his rescuer Murja to touch him.
We hope soon he will understand that he is not alone any longer and that our love and care will show him that a better life lays ahead of him.
We want to thank everyone who has contributed towards his medical bill. We are very grateful for the support he has received so far. Please continue to be there for Snoopy while he goes through rehabilitation. 
He immediately needed medical help and we urged the owners to surrender him into our care, promising once he has healed we would find him a home that he deserves. It didn't take much conviction for them to agree and realize that they are overwhelmed to care for him.
When Murja approached the little boy over some food, tears were streaming down his face. We believe he cried out of relief, knowing that the long-awaited help finally arrived.
At @balideli_vet he is now under intensive treatment. His kidney function is significant decreased as he was almost starved to death.
With good food, the right medication and lots of love we are positive he will make a full recovery. But for the moment he needs a lot of rest for his exhausted body to heal. In his eyes we can see hope. Hope of a wonderful ending to a painful story.