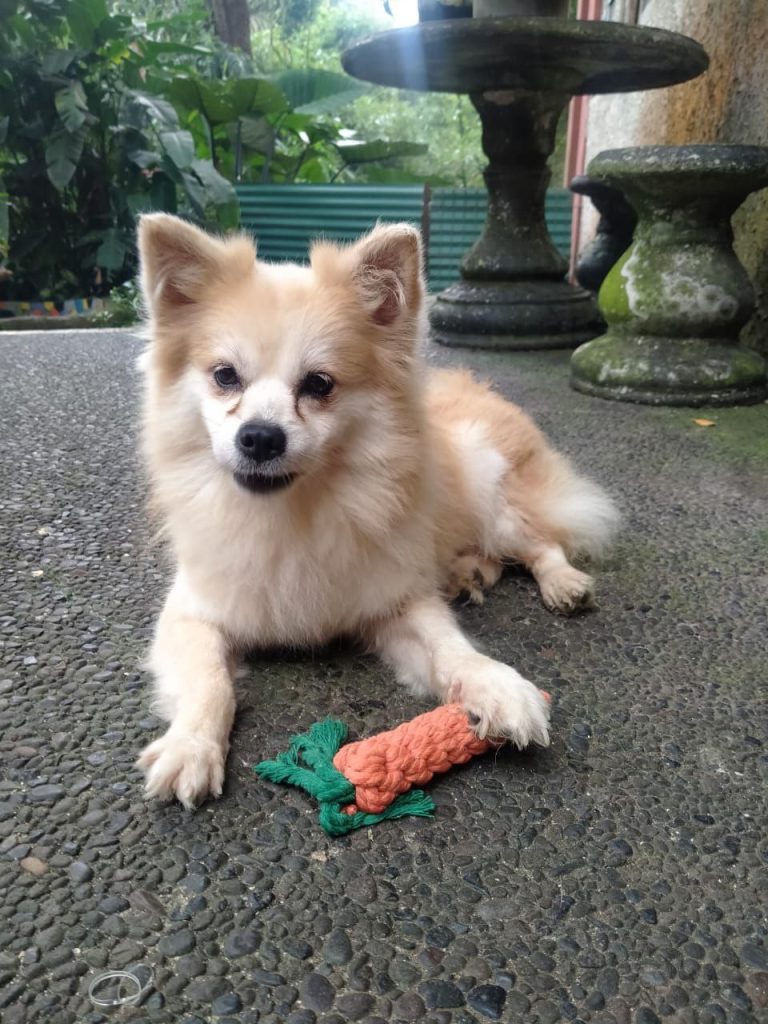 Age        : 5 years
---
Sex         : Female
---
Size        : Small
---
Colour   : Brown
---
Every animal adopted from BARC is desexed*, vaccinated, flea and worm treated, behaviourally assessed and health checked.
*Unless fostered or adopted before of age owners are able to return with their animals during sterilization days.
Senior Momo is one of our many special permanent residents at BARC. Dumped when she got old, Momo was rescued in 2021. With us she is living out the rest of her life in our refuge.
Momo is a very rare hermaphrodite dog, the only one we have ever met here in Bali. She has male testicles and female genitalia with a poorly-formed "vestigial" penis. In short she is not male or female.
Kept in a cage most of her prior life, she suffers grade 4 patella luxation in both back legs which makes her not being able to walk properly. Thankfully she is not in pain yet but it's already so severe that surgery can't resolve this.
But it doesn't stop her to live a relatively normal life. In our care she overcame her fear in humans, has learned to trust and love again. She has made friends with the other senior dogs and enjoys to play with toys.
We are wishing to find a family who would like to virtual adopt Momo. 
What does it mean to become a sponsor for one of our rescues? You can choose a monthly amount with which you will support your sponsor dog and our good cause. Your sponsorship helps us to provide food, shelter, medical care and love. Every sponsorship saves lives.