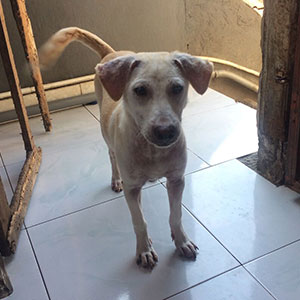 Age        : 
---
Sex         : Female
---
Size        : Small
---
Colour   : Cream/Tan
Every animal adopted from BARC is desexed*, vaccinated, flea and worm treated, behaviourally assessed and health checked.
*Unless fostered or adopted before of age owners are able to return with their animals during sterilization days.
Elsa is a beautiful little girl, she is a bali dog and lives at Barc HQ. Elsa has had a case of demodex and is on medication, we are hoping she makes a fully recovery  and keeping an eye on her hormones. Otherwise she is happy, healthy, gets along with people and other dogs and ready for adoption.
Update: Elsa suffers from Demodex mange. It is hereditary and completely non contagious to other dogs or humans. What she really needs is a loving, non stressful home at which time she will likely make a full recovery.